Community Profile

être libre
your escape...
Free Account
Created on 2012-08-07 15:03:51 (#1699847), last updated 2012-12-16 (248 weeks ago)
317 comments received
34 Journal Entries, 131 Tags, 0 Memories, 1 Icon

About
| | |
| --- | --- |
| Name: | être libre // your escape... |
| | |
| | |
| Membership: | Moderated |
| Posting Access: | All Members |
| | |

Mini Bio
etrelibre is a resurrection of inactive LJ game etrelibre_rpg. It is now a private RP verse and not open for application. It returns with the same premise, but with a new cast and clean slate start. All locations and game details remain, but the plots on the LJ version are not being continued here.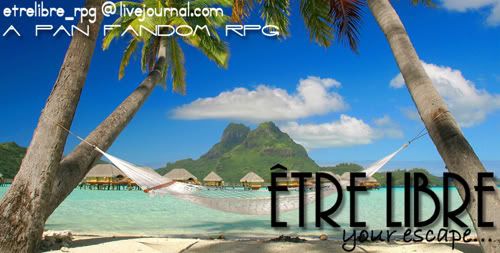 Être Libre: Your Escape...
When you think of escape, sun, beautiful beaches, and relaxation comes to mind. When you want to escape, the island of Être Libre will give it to you.

A beautiful tropical island set in an unknown location, Être Libre is the ultimate escape. Inhabitants arrive from a mere thought that they need or want to escape their lives and in a heartbeat, they'll find themselves on the beautiful island. No one knows how they got there and there is only one way to leave. How to leave is not known until you find it and when you find it, it's too late to look back. Because of this, departing inhabitants have never been able to reveal to their fellow islanders how they left. You can only leave when you are truly ready. Ready for what? No one on the island has ever solved the secret. Once you leave, you can return, but you will have no recollection of ever having been there before. It is believed that when you return to your life, it is at the exact moment you left it but with an inner peace you did not hold before, though no one has ever returned with recollection to confirm the myth so it continues to remain a mystery to the island inhabitants…
How To Get There
All it takes for you to arrive on Être Libre is a thought that you need to escape. Whether you've had a bad day, you're amidst an argument, you've seen something you shouldn't have, the supermarket ran out of your favourite Ben & Jerry's flavour, Jimmy Choo decided not to release the emerald green strappy shoes this season, you got fired, you've lost someone close to you, someone stole your pen, that sex tape you made has been leaked to You Tube… anything, big or small, if a thought in the realms of "I need to get out of this place" passes your mind, you could find yourself in Être Libre on your next breath.

Your arrival is by choice, though that fact is not always clear to new inhabitants. You can leave, you just need to know how and you can only learn how when you are ready to leave.
To Exist In Escape
Although an island, Être Libre is a fully functional resort and has everything a person could want or need to survive upon it for an indefinite period of time and for others to forge a completely new life for themselves there. Some only come for days or weeks, others have been here for years. Upon arrival and check-in to the resort, inhabitants will find five items of importance to them from the lives they escaped from. They will also have the ability to survive on the island without earning an income for six weeks from the day they arrived. After that, they must find their own means to survive, whether it be getting a job, starting a career, becoming a thief, a prostitute, busking, getting a sugar daddy… the list goes on. A majority of inhabitants prefer to find themselves employment soon after they arrive and may have the option to start their own business on the island if they have something new to offer inhabitants. Check the Employment Register and Job Vacancies Post for what taken and available, or come up with a business or job your own.

The resort itself offers luxury facilities starting with accommodation for all inhabitants that may be beautiful rooms in the main complex (rooms come in singles, doubles, triples or, quads) or on-the-beach bungalows, usually housing two or more people. Here you will also find the Blue Lagoon Bar, Breezy Point Restaurant, the Four Sands Cafe, Hors de Prix Exotic Dancing and Strip Club, Chique Physique Gym, the Moonlit Shore Piano Bar, the C'est Naturel Day Spa and Sauna, and the Être Libre Marina and Boat Ramp.

Connected to the resort is a town offering shops, restaurants and entertainment facilities in addition to the businesses at the resort. There are also services such as a Medical Centre if an islander gets ill or injured, a police station to target inevitable crime on the island, a library if reading is your preferred relaxation tool, a supermarket for grocery shopping, a mall, and the ever-popular dining hot spot, Beach Street, offering a restaurants with food from all corners of the world. Popular businesses in the town include the bowling alley, the movie theatre, the Karaoke bar, Aquatic Chaos gay bar and nightclub, Shaken'n'Stirred nightclub, Pages Bookshop, the casino, and the adult pleasures shop, The Pleasure Chest.
People, Places, Pleasing Yourself
+ Find the list of island inhabitants and their bios // HERE
+ Find who stays where in the resort // HERE
+ Find the list of island places and activities // HERE
+ Find a list of jobs and who is employed where // HERE
+ Find our verse Frequently Asked Questions // HERE
Profile Layout Coding | Stylesheet Layout Coding
THE CONTENT WITHIN THIS COMMUNITY IS SOLELY FOR ROLEPLAY AND RECREATIONAL PURPOSES AND NO PROFIT IS BEING MADE BY THE GAME OR ANY PLAYER INVOLVED. ALL CANONS DEPICTED IN ROLEPLAY ARE OWNED BY ITS CREATORS AND WE ARE IN NO WAY AFFILIATED WITH THE CANON MEDIAS DEPICTED HERE NOR THE INDIVIDUALS USED TO PORTRAY OUR CHARACTERS.
Administrators

Members (39):
alloriginalgradeabadass
,
beatboxwarbler
,
bigbrothersrock
,
bitofheavenwithawildside
,
blackbyname
,
body_artist
,
dapperdevious
,
dontrainonmyparade
,
ferdilicious
,
finninator
,
geniuscowboy
,
gotstarpower
,
growingfeminism
,
hadmeatsextape
,
have2justbeme
,
huntthatlittlebitchdown
,
itwontstopme
,
jake_tucker
,
justbeingaqueen
,
justwants2dance
,
nickthewarbler
,
notchangingwithyou
,
notjustsammy
,
panthers7
,
realfriendintexas
,
royalsidekick
,
sellsweed
,
sexislikehugging
,
showingnuttage
,
singslikeagirl
,
tacticalmind
,
texas33forever
,
theundapperone
,
thewholeblahdamnthing
,
warble_on_jeff
,
woman_or_a_girl
,
youpullmine
,
yousaidcuddle
,
zephyrnovotny

Subscribers (40):
alloriginalgradeabadass
,
beatboxwarbler
,
bigbrothersrock
,
bitofheavenwithawildside
,
blackbyname
,
body_artist
,
dapperdevious
,
dontrainonmyparade
,
etrelibre_mod
,
ferdilicious
,
finninator
,
geniuscowboy
,
gotstarpower
,
growingfeminism
,
hadmeatsextape
,
have2justbeme
,
huntthatlittlebitchdown
,
itwontstopme
,
jake_tucker
,
justbeingaqueen
,
justwants2dance
,
nickthewarbler
,
notchangingwithyou
,
notjustsammy
,
panthers7
,
realfriendintexas
,
royalsidekick
,
sellsweed
,
sexislikehugging
,
showingnuttage
,
singslikeagirl
,
tacticalmind
,
texas33forever
,
theundapperone
,
thewholeblahdamnthing
,
warble_on_jeff
,
woman_or_a_girl
,
youpullmine
,
yousaidcuddle
,
zephyrnovotny

Linking
To link to this user, copy this code:
On Dreamwidth:
Elsewhere: